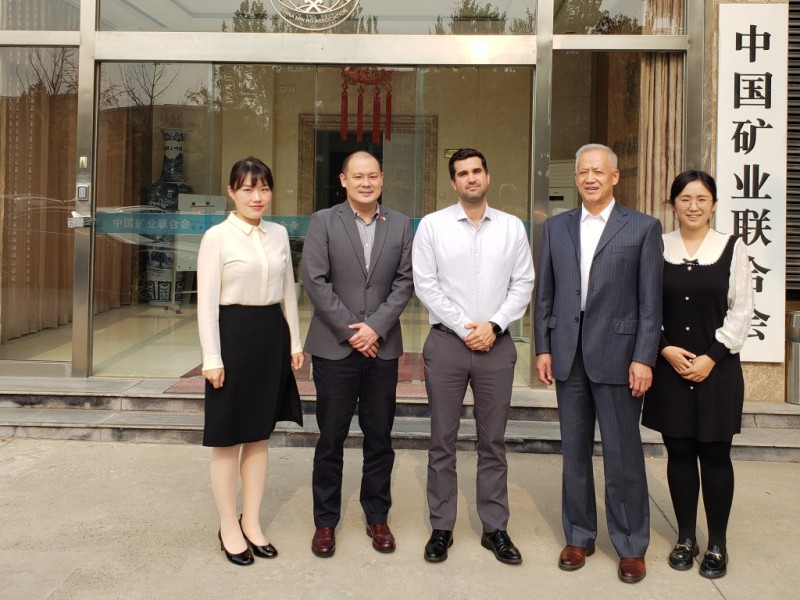 BEIJING, Oct. 26(Chinamining)--Che Changbo, Secretary General of China Mining Association, met with Minister Counsellor of Israel's Trade Mission in China, Yoav Haimi.

Che Changbo welcomed the visit of the Israel's Trade Mission in China, and highly appreciated Israel's achievements in the field of scientific and technological innovation. Che introduced China Mining Association and summarized the developments of China's mineral resources and mining industry. He said that the high and new technologies of Israel could be broadly applied in China, especially those which related to new energy, water recycling, geothermal, green development and mine safety. Che also introduced the construction of the cloud platform of the China Mining Conference and Exhibition, hoping that Israel could establish a national pavilion there, so as to better create mutual understanding, exchanges and cooperation between two countries.

The Minister-counselor, Yoav Haimi, first introduced Israel's Trade Mission in China, he said that there are great prospects for the technological cooperation between China and Israel. Israel is leading the world in safety, green development, sewage treatment and communication technologies. Smart mining and wastewater treatment technologies are quite applicable to Chinese mining industry. He hopes that Israeli high-tech could help Chinese mining enterprises to develop in a more innovative, efficient, green and sustainable way. Israel's Trade Mission and China Mining Association should set up a long-term cooperative partner relationship and jointly hold various activities in the future for deepening cooperation between the two countries.

The two sides agreed to build a cooperation platform for China and Israel, strengthen exchanges, enhance cooperation and achieve a win-win situation. The meeting was also participated by Yan Yang, Director of Israel's Trade Mission in China, and staff of Department of International Cooperation and Research of China Mining Association.