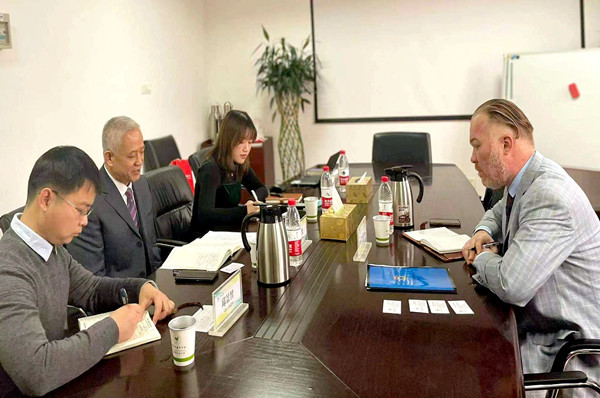 BEIJING, Jan. 21(Chinamining)--On behalf of President Peng Qiming, Che Changbo, the Secretary General of China Mining Association met with Gary James Smith, the Economic Counselor of the Embassy of the Republic of South Africa in Beijing.

Smith first expressed his sincere thanks to China Mining Association for inviting Ambassador Siyabonga C. CWele to attend and deliver a speech at the opening ceremony of the 23rd China Mining Conference and Exhibition.
He said that South Africa is rich in mineral resources and mining has been the the pillar industry of the country over centuries. The mining industry plays a crucial role in South Africa's economic recovery, which has been in the doldrums for the past two years due to the pandemic. He pointed out that the mining cooperation between China and South Africa has a long history. Like always, South Africa welcomes investment and technical support from China and hopes to cooperate with China in the clean energy field.
Che Changbo welcomed the arrival of Mr.Smith and agreed with his views. He mentioned that China and South Africa are both members of BRICS and hoped that South Africa would play a leading role in China-Africa cooperation. He stressed that CMA is a comprehensive industry association in China's mining sector and is committed to providing quality services for mining enterprises. Against the special background of the epidemic, it is hoped that exchanges and cooperation with the mining sector of South Africa could be done through the embassy in a new way to integrate capital and technology from Chinese enterprises and raw materials from South Africa, so as to find opportunities for broader and deeper cooperation.
The two sides reached consensus on jointly holding seminars, South Africa mining projects promoting, signing cooperation agreements at an appropriate time and maintaining regular cooperation and exchange mechanisms.
The meeting was also attended by the Department of International Cooperation.