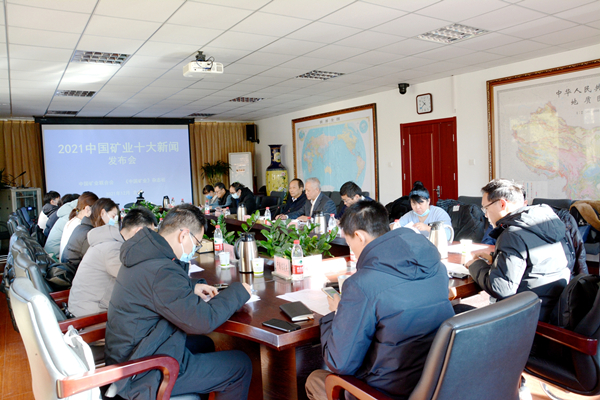 BEIJING, Dec. 28--China Mining Association and China Mining Magazine Co , LTD jointly held the press conference of "2021 Top 10 mining News in China ".

1.The achievements of the Decade of Strategic Action for Prospecting breakthroughs deployed by The State Council in 2011 were released. The amount of major mineral resources generally increased, with the increase of gold, tungsten, molybdenum, manganese and graphite minerals accounting for more than 50% of the total.

2. The sharp rise of domestic coal prices led to "power rationing", and the National Development and Reform Commission and other ministries and commissions launched a series of combined measures to guide the reasonable return of coal prices.

3. Three departments including the National Development and Reform Commission issued the Implementation Plan for the 14th Five-Year Plan to Promote the High-quality Development of Resource-Based Regions.

4. Zijin Mining has completed the construction of a world-class copper mine in Kamoa-Kakula, DRC, which is expected to become the second largest copper mine in the world.

5. The National Development and Reform Commission issued successive macro-control policies, and the international iron ore price dropped from the soaring $230 / ton to below $100 / ton.
6. The Ministry of Natural Resources reveals the state-owned natural resource assets.

7. The Ansteel&Bensteel formally restructured and reorganized the world's third largest steel enterprise.

8. The Cloud platform of China Mining Conference and Exhibition was officially put into operation.

9. The reform of localized geological prospecting units in all provinces was basically completed, and the Ministry of Natural Resources issued the Guidelines on Promoting high-quality Development of the Geological Exploration Industry.

10. In 2021, the exploration of oil and gas has been improved, with annual oil output approaching 200 million tons and annual natural gas output exceeding 200 billion cubic meters for the first time.