¡¡¡¡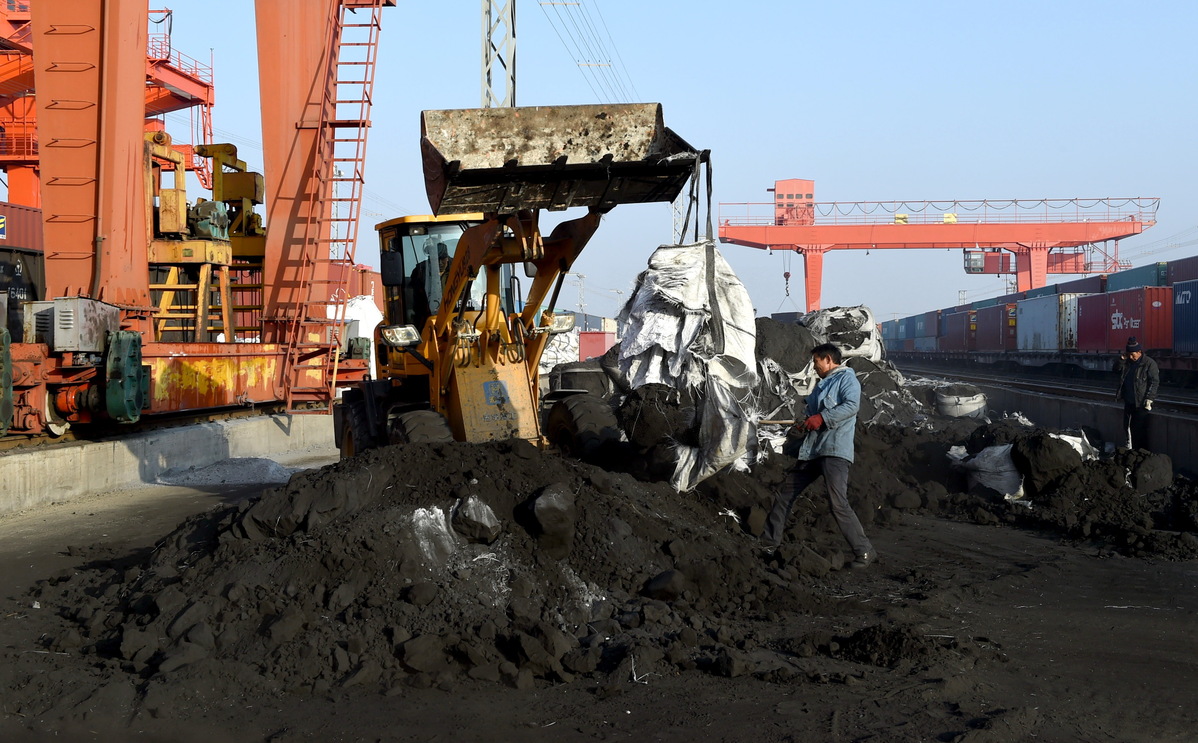 A worker carries out unloading operations at a coal plant in Ereenhot in the
Inner Mongolia autonomous region. [Photo/Xinhua]
¡¡¡¡The local government of the Inner Mongolia autonomous region has confirmed its goal to cut 11 million metric tons of annual coal production capacity in 2018, while ensuring the market remains steady with a supply of premium products.
¡¡¡¡According to the Inner Mongolia Economic and Information Technology Commission, the region will close 22 coal mines and lower the region's annual coal production capacity by 7.05 million tons more than originally planned.
¡¡¡¡The local EITC's coal mining industry bureau said that while reducing outdated capacity, the region has been proactively encouraging modern coal mines to expand their output volume, to ensure a sufficient supply of premium coal.
¡¡¡¡In the first five months of 2018, Inner Mongolia produced 373 million tons of coal, up 5.77 percent year-on-year.
¡¡¡¡From 2016 to 2017, the region cut its annual coal capacity by 14.1 million tons, 82.5 percent of its goal for the 13th Five-Year Plan (2016-20) period. According to the regional EITC, from 2016 to 2018, Inner Mongolia will cut its annual capacity by another 25.2 million tons, completing its goal two years earlier than initially forecast.
¡¡¡¡Cutting excess capacity has long been a core mission for the country's top regulator. The National Development and Reform Commission set the clear goal of cutting 30 million tons of steel and 150 million tons of coal production capacity nationwide in 2018.
¡¡¡¡To avoid imbalanced demand and supply in the coal sector caused by the sharp decrease in the number of coal mines and the replacement of outdated facilities, the NDRC has granted permission for coal mines with over 6 million tons of annual output to be built in the region.
¡¡¡¡"We will shift from simply cutting quantity, to structurally and systematically cutting excess capacity in 2018," said Ning Jizhe, vice-chairman of the NDRC. "Doing so requires efficient measures to keep coal prices within a certain range to prevent sudden rises or slides."
¡¡¡¡Coal industry analyst Xu Shinan said cutting excess capacity in a structural way is still a tough job.
¡¡¡¡"We need to focus on structural adjustments instead of simply reducing the amount," he said. "It is a hard job to both eliminate outdated capacity while maintaining the balance between demand and supply."